Today's topic is sketchbooks and notebooks.
Here is my pile of joy: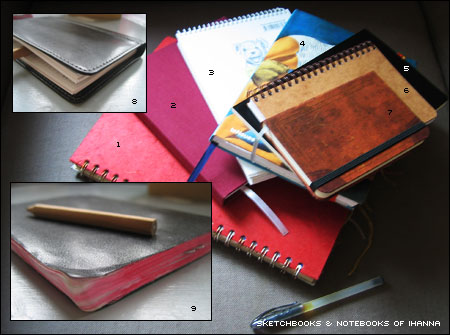 1. My second art journal is red, and full in about two spreads. Have to find a new one soon.
2. A empty wine coloured notebook with thick white pages that is difficult to start in since I feel I need to save it for a special purpose…
3. My sketchbook is a drawing-book (ritblock) with thick white pages and a spiral binding that makes it easy for me to draw since I always know I can tear the ugly stuff out and through it away before anybody sees it.
4. My diary, brand: teNeues. It has blank white pages and I use a ruled paper behind the pages to make it look straight when I'm writing in it. I wrote the last page yesterday. Do you remember when it was blank?
5. It's a soft covered Moleskine plain notebook that came in a pack of three. It has really thin sketchbook pages, but I'm going to use it as my next diary, since it's so portable and I'm planing to do my writing on the bus next week when school starts.
6. A ruled little spiral bound book that I'm planing to use for journalistic work, interviews, notes and such. Pocket size is good.
7. Like number #6 I also got this one in France, in the cutest paper shop I've ever been into. Gosh, it was expensive, but I had to get this little brown note book from PaperBlanks, it's called the Mini Traveller – I just love that. I hope I can travel soon again (I want to to to Asia!) and then use this one!
8. My daily planer for 2005/2006 that my mother got me. Just for notes on what I have to remember like birthdays and meetings.
Yesterday in front of the TV I tried my new water soluble oil pastel crayons in my third sketchbook, and I love love love them. Here is my contribution for this weeks Illustration Friday: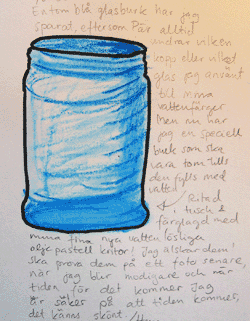 9. And the best one is saved for last: the little mini note book for sketching and writing down ideas. I've been carrying it around for over two years now, so I guess I don't use it very often but I love the feeling of it always staying in my bag. I usually jot down ideas I get from craft stores, other peoples craft books or writing ideas that I want to remember. I think everyone should have one.
My first Studio Friday Challenge
Random surfin' can be a waste of time, but also yield great discoveries. Yesterday I found a blog called Studio12.3 who belongs to Marianne, a graphic illustrator in the Netherlands. Marianne is involved in the project Studio Friday that is started by the great artist Tine Wiggens, who also has a great blog called Tine Sparkles. Tine posts a studio challenge each Friday for her followers to blog about, something from the creative life of an artist. It is a great community over there, which I like.
I didn't know about this project before, but I'm hopping on the train today since it's Friday and the topic was notebooks – one of my biggest passions.
I hope you enjoyed the post.
Have a great Friday friends!