I recently saw a blog post where someone made distress paper tags that looked really cool. They were made them using Distress ink pads, but I don't own any ink pads at all. Instead I just crumbled ordinary paper and tried out my own method of distress paper!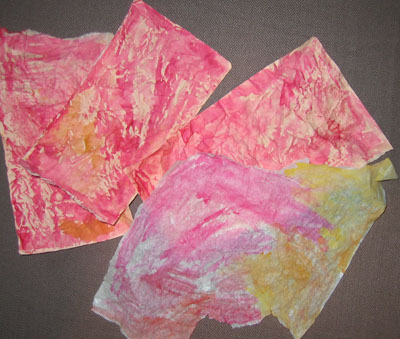 How to distress paper
It's not hard, but it is super fun to make.
I crumbled pink copy paper and also some tissue paper – and used pink and red watercolour on top of the crumbled paper to distress it.
The paint gets caught in the creases and it is a really cool effect. I like it and can't wait to use it somewhere soon.
** Idea from Altered Belly: distressed paper tags, who writes;
You can either do it with or without the crumpling first. I prefer the crumpled look. It takes more ink to do it on the smooth tag. […]

I experimented with smooth and crumpled tags. If you crumple, make a dent in the middle of the tag first. It will crumple better and will less likely to tear. You will need to have a spray bottle with water, ink pad, iron, and ironing board handy. The iron and ironing board is optional but I prefer how the tag turns out.
I did not iron mine (yet) but might do that. Let me know your paper experimenting goes.