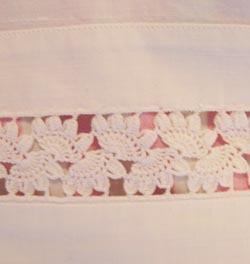 A couple of weeks ago I sewed together some pink fabric and made four pillow cases! This weekend it was time to make the matching shabby chic duvet covers.
I used second hand bed fabric as material, so the whole project was about 65 SEK (about 9 dollars) for two duvet covers. The material was a finished duvet cover with pink and white stripes that I un-stitched all around. I matched each side with a old fashioned sheet with lace on the top, that I folded to show the lace like they used to in old times. I'm pleased with the result.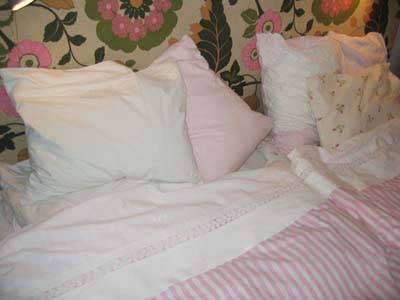 I 'm not sure that the pink stripes are not "to much", but I like the white sheet very much, and now it won't move away like it would if I had just folded it around a quilt. Maybe I will add buttons later?

Here you get the big picture. And I'm not at all tired of the bed post fabric that we put up a year ago! I love my pink jungle!
Good night, sleep tight and don't let the bed bugs bite!