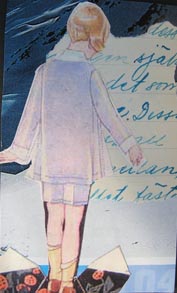 This is my very first ATC (artist trading card). It is not the correct size, and it is really funny because I drew a couple of ATC sized cards on a A4-cardboard paper but then made the collage on the only one that was not the correct size! But it doesn't matter because I won't trade this one anyway, I like it too much. I'm keeping it as a gift for my self. What a great gift creativity is.
I'm amazed how these small pieces of paper glued together on cardboard can make me feel both proud and joy. How is that?
The correct size of an ATC is 3,5 x 2,5 inches, and that is 64 x 89 mm in my world. I've joined a couple of mailinglists and will try to find swaps, because, as I said earlier – I'm so hocked on this it hurts! I don't want to do anything else right now. Anyone wants to trade or give me info on ATC please do! I want to know everything and some more! I've soon read all the articles how-to's at Lisa Vollrath, specially the one on ATC's! It's just so nice that some people take the time to write all that great information so that newbies like me can read up for free! Amazing grace! I think I've mentioned Aisling before, her how to Create Art-page is a wonderful resource about all kinds of mixed media!
I've mass-produced ATC's this week, more pictures to come.