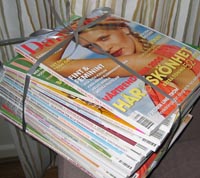 I was at a second hand market sponsoring girls football last weekend. I was mostly junk, but I found some stuff I was really happy about. First out was a big pile of fashion magazines (Damernas värld) from 2004 – 2005! I got the whole pile for the same prize as one new magazine would have cost me. There is not a lot of funny pictures in these, mostly fashion and ads, but as backgrounds these pictures will be great for collage in my art journal.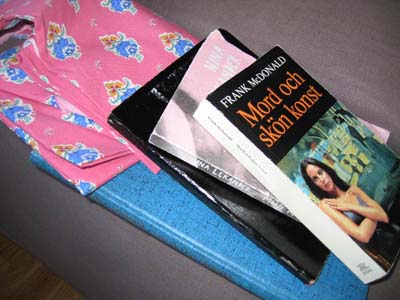 Then I got one piece of fabric with blue flowers on (I think I'm giving it all to mom) and some books. The big blue book is about birds (!) with big black and white photos. I'm thinking altered book? A novel by Nina Lekander and a thriller for my father in law.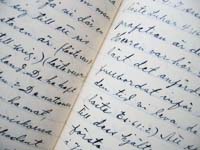 The black book in the picture is somebody's notebook, from 1935 or so. It seems to be answers to someones religious studies, handwritten in the prettiest vintage handwriting ever in black and blue ink (like my grandmother writes). What a great find! I've been searching for good looking handwriting on the internet, but haven't found any great resources yet.