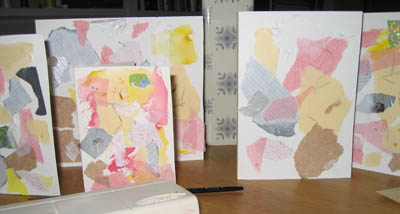 I wanted to send a big and long THANK YOU to my mother and father for everything they gave when I were visiting their home for 1,5 week, so I made a white card with collage of different scraps of beautiful paper that were all pale colours and nice to touch. Inside I wrote a long lists of all things I'm thankfull for; like great food, nice times, fabric and button presents, my brother making ATC's with me for a swap we're in and so on. Long list.
The card came out good, so I made some extra. It's allways good to have nice plain cards when going to unexpected parties or sending quick birthday wishes. My mother taught me that. I also have a "present cupboard" with little stuff for unexpected celebrations!
I might do more, it was so fun. Sorry for saying everything is fun, but it is! Or at least I just write about those things that are fun and crafty and creative and full of joy here.
Thanks for tuning in!
* Bonus link: Hobycraft: How to on Card making!