After buying Pep-yarn from Lana Grossa my yarn budget for April will have to be low. But while still in March I scooped up some secondhand bargains (some used – some new but old, if you know what I mean)…
These pictures make me happy for moments to come: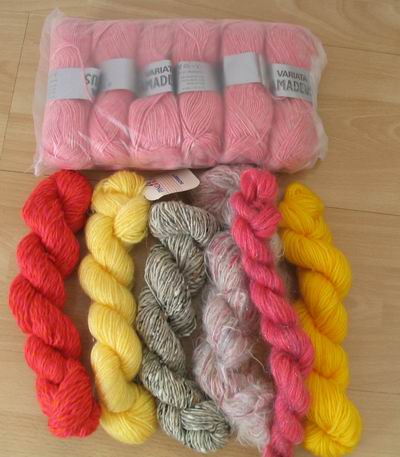 First row: 6 balls (300 hg) of supersoft pink yarn called Variata Amadeus (20 % wool, 30 % nylon, 50 % acrylic on needle 3 mm), maybe enough for a small cardigan? Hm, maybe not. I'm on the lookabout for a pattern. Any ideas please tell me about it.
Second row: Six small skeins in different colours (some wool, some acrylic), that is already being knitted into a Lefteover vest! I haven't knitted for more than a year so I didn't have enough "leftovers", I had to buy some! All this for 100 SEK (about 14 USD)!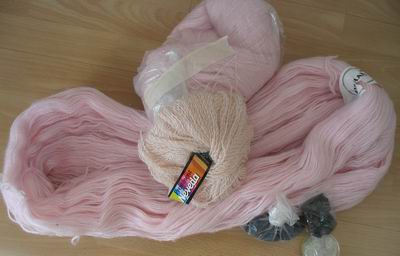 My mom have found us a thrift shop who gives there abundance to poor parts of Africa, so shopping there is good for the soul. At my first visit I found two enormous skeins of bright pink yarn (=600 hg) for 100 SEK . It's called Big hank, made in Holland and knitted on needle 4 mm (300gr=1100m, 5 % wool and 95 % acrylic). Supersoft!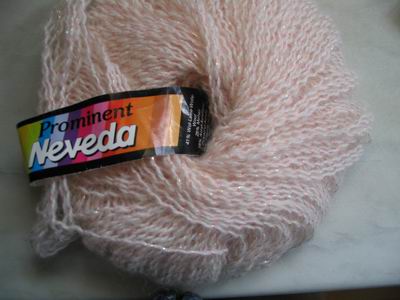 Two small skeins of Neveda (mostly wool, hand wash) in different kinds of pinks – and with a glitter thread in it, 5 SEK á skein. I'm using 1,1 of it for a small shawl. The rest my mom nicked for her copy cat shawl.
Sometimes a poor student is lucky! Hooray!