Shopping in the Big City. Dangerous but fun!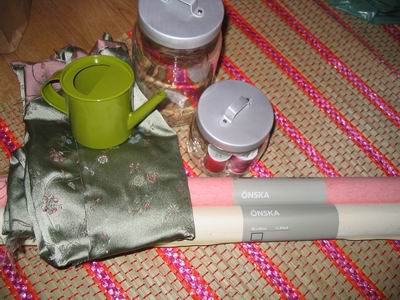 I got some small things from IKEA, one of my favorite stores. A mat with pink stripes (!) for the balcony, I would really really like to have something nice and comfy there this summer. I might not have the thickly wooded balcony that Anna's got, but I wouldn't mind something like that!
More from IKEA was a couple of glass jars (always good to have), 3 cotton reels, glossy fabric (a pillow?), beautiful wrapping paper (a true love) and a little green pitcher for J-lo who is 1 yrs old soon.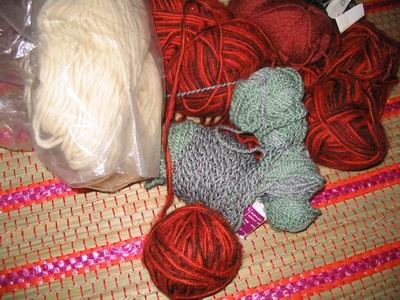 Yarn that mom got from grandmother and then gave to me. I don't know what to make out of this, but I love the rust brown colour. Plus two big skeins of Lovikka in the bag! Yay!

And some more stuff from Myrorna when shopping around with Susan. On the picture you can see a white wool scarf with knitted dots and pockets for the hands, a wool hat (see below), a couple of old music notes, embroidered roses and the book Tao Te Ching in English! Oh joy!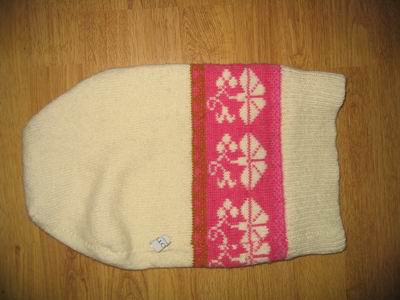 The cap might be a… something else. A bag in Do Redo-style? I think so.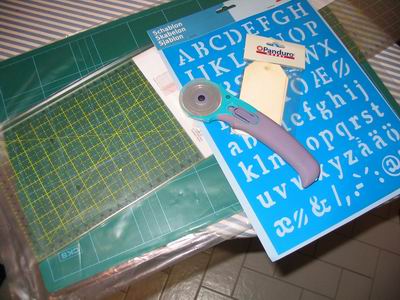 From our visit to the big craft shop, Panduro, I got a cutting mat (self healing) and a plastic ruler for cutting straight. I got two knifes too, one from dad (to cut papers) and one from mom (to cut fabric for quilt making). When at Panduro I also got some tags and a cut out alphabet that I think I need.
– What is your plan? Susan asked me several times and my answer remains:
– I might need it… someday. I'll make something out of it… soon. I think.