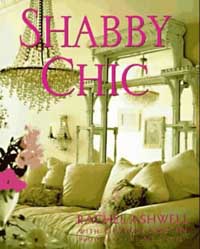 It' sad, so sad, but this week I'm gonna have to return the book Shabby Chic by Rachel Ashwell to the library! I've re-loaned it three times (which is the limit) and read it through and looked at the pictures with yearning many times.
(But if I blog about it, I might be able to "keep it"/remember it anyway. That is my philosophy about many things. If you write about people, moments and knitting projects you'll keep them for ever. You yourself can read about them later and they'll still be "yours" even when they are almost forgotten, lost or finished. That is one reason I keep a diary, do my bloging and now also keep a art journal. It saves the moment.)
But back to the Shabby chic book.
I don't know if my obsession with roses started before or after I borrowed this book, but I know I got my rose bowl (now in the window in front of me) about that time. The Shabby chic decoration style of Ashwell is not as pink as I thought it had to be after reading about Melissa, but still very romantic and soft. But some of the rooms in Ashwell's book is blue or light green. So you know. And I adore them all. Specially the white rooms with pink throw pillows and rose paintings on the wall.
Did you know it was Rachel Ashwell who named this decoration style? She has a store who sells "old new stuff" and you can check her stuff out at the Shabby chic gallery!
Imagine having her job? I can easily imagine me being her… Going to flea markets where you buy anything with a potential to become great. Restore, paint, sew, play, put together in different ways – place it in your big beautiful store and make people happy! Write a book about it and make even more people happy.
Are you a Shabby Chic Gal?

Test yourself:
Are you obsessed with decorative pictures of roses (and on fabric!), furniture with worn paint, the romantic style, lace, light or plain white walls, flea market bargains, crystal chandeliers, candles, anything vintage, mirrors… then this interior decoration style is for you! I'm almost certain.

Here are some of my favourites from the book: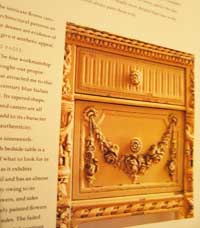 A bedside table in milk white with ornamental wooden cuts of roses and leafs. Who wouldn't love this? Oh, right, minimalists and modernists perhaps? :-)
I can't find anything this beautiful at flea markets in Sweden, and this is the reason that I still just have an unpainted wooden stool for bedside table. I want something like this!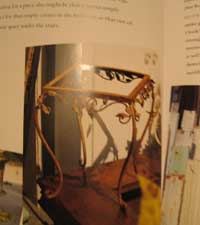 Ashwell has put ugly rusty things like this to great use:
She has made tables for bedrooms, balcony and bathrooms. I would love to find one and try it out. But where do you find things like this? Not where I've been looking anyway.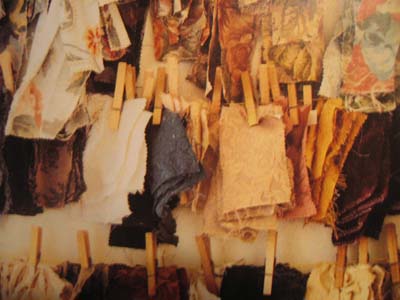 And this is one great idea from the book (check it out on amazon: Shabby Chic) that I really like. If I had a craft room I would try it out!