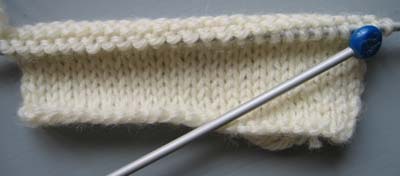 A gauge test of the Bambino wool that I bought when shopping with Marika. Looks good, right?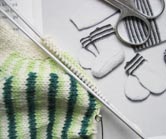 So I've started to knit on the little mini cardigan. It's knitted in one piece and sewed together under the arms. The whole kit is totaly cute, I hope I have the energy to make all of the pieces. I definitely have the time, the intended wearer is not due until september (not mine eather, but I'm going to be the Aunt!) and this cardigan is for a baby of six months! I thought I'd better start in good time… and be ready with one Christmas present before december!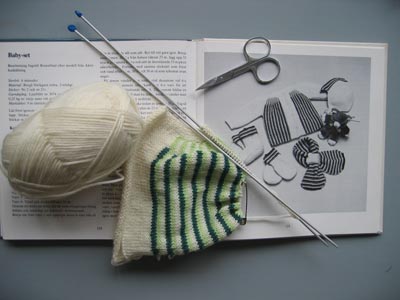 SV: H?r ser man hela kitet som finns i boken Sticka med hemsl?jden fr?n 1979. Jag tycker allt ?r urgulligt, men randningen ?r puckad. S? h?r st?r det i m?nstret, och nu beh?ver jag n?got tips fr?n svenska stickare:
"Varv 1: sticka 44 maskor av 56 i m?rkgr?nt, v?nd och sticka tillbaka. varv 2: sticka 50 maskor i ljusgr?nt (ah, egentligen st?r det ju ljusbl?tt men jag g?r min i gr?nt eftersom jag inte vet vilket k?n b?bisen ?r), sticka tillbaka. Varv 5: sticka 66 m. Varv 6: v?nd och sticka tillbaka 56 m."
L?tt att begripa, men jag blir irriterad f?r varje varv. Det blir ju ett litet h?l n?r man v?nder, hur jag ?n g?r! ?ven om jag s?tter ?ver en av de maskor jag stickat till h?gerstickan blir det ett mycket synligt h?l. Jag antar att man kan n?sta ihop detta med en tr?d fr?n baksidan. Men kan man inten g?ra n?got ?t det medan man stickar? Garnet ?r mjukt och gossigt, men de sm? oj?mnheterna vid varje v?ndning ?r irriterande. Hj?lp!
Obs, den v?ntade b?bisen ?r inte min, men jag ska bli moster ?t den.