The Snowdrops are up, but today the sky is gray again here.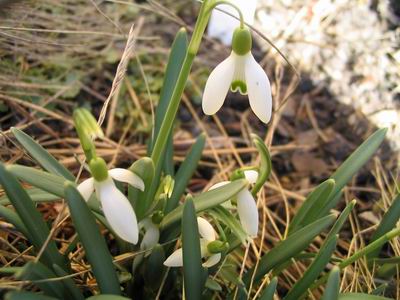 When I was at my mom around Easter, we sat in the sun like this: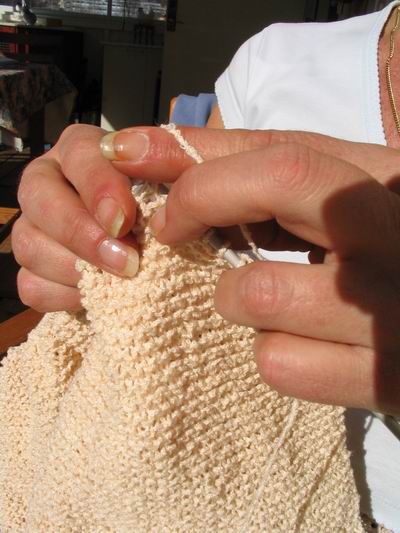 Knitting, knitting and having big mugs of dark coffee.
And since I wanted to try my new Easter present, the quilt mat, before leaving we decided to make a little square with a house pattern that I found in one of her Norwegian quilt magazines. We made it double size and it turned out to be a great foundation for a summer bag!
Here are some pictures of our bags: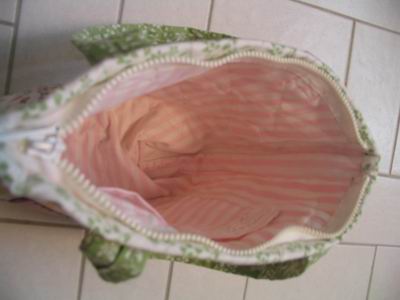 I put pink and white striped fabric as lining inside mine, and mom taught me some new things: How to hide the seams inside and in the bottom, how to quilt it together with the lining, how to sew on a zipper and how to use flisofix for the applique! Like having a free class in sewing, fun and educating. And now I know more about how to cut fabric with my new "round knife" and how to use the mat and ruler as guides.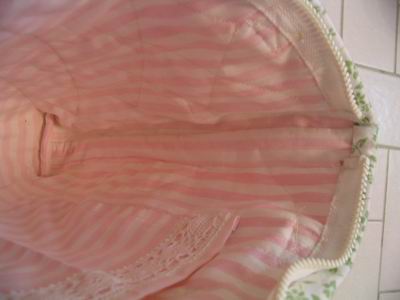 More of the inside.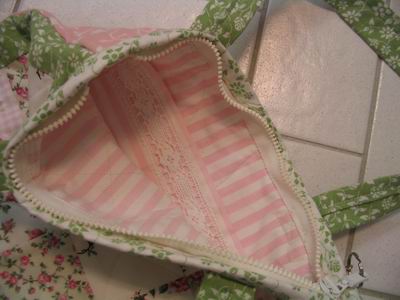 One inside pocket with white lace on the pocket edge.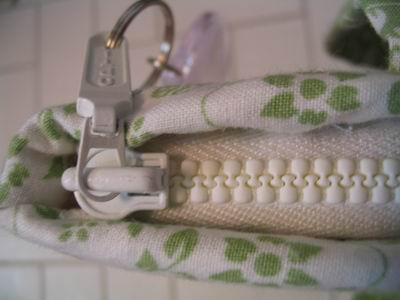 White zipper from mom's stash.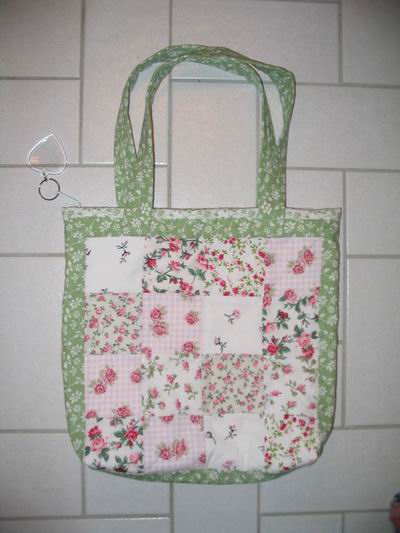 This is actually the "backside" but I like this side best!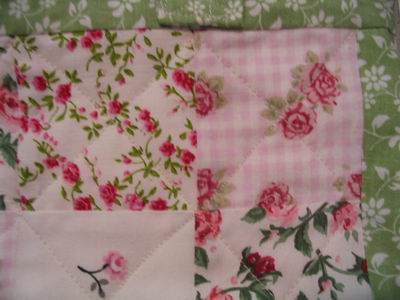 Close up on the backside of the bag. I only used rosy fabric (thank you mom!) with white backgrounds. Then I quilted it on the machine, as I think you can see on this picture.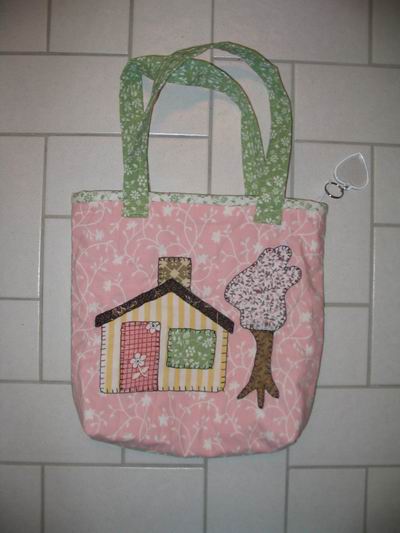 And here is the yellow house with a green tree. Not at all like the picture in the magazine (it was a brown house with brown as the main colour of the details too), but very "me".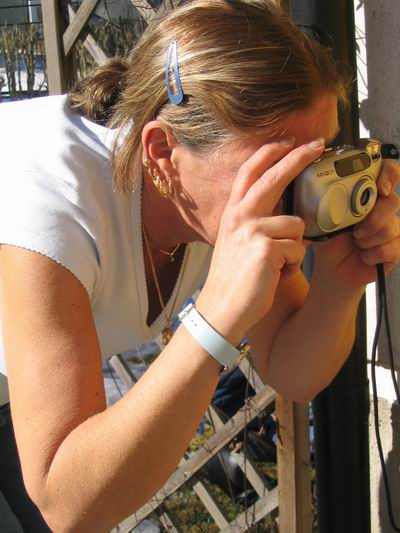 Mom's taking photo of the bags together. Mine and hers. She has a special Scrapbook with pictures of all her quilt projects over the years. I gave that book to her almost ten years ago and I think it will be filled soon, it's amazing looking through it to see all the quilts and quilt stuff she has made (100's of pot holders – and such, almost everything given away to friends and family).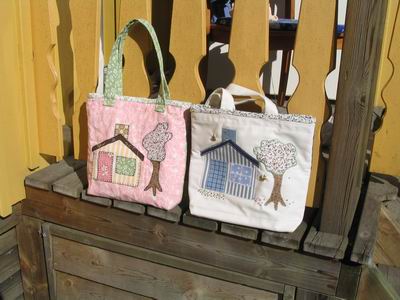 Both our bags together, side by side. Mom's is blue of course, mine is pink.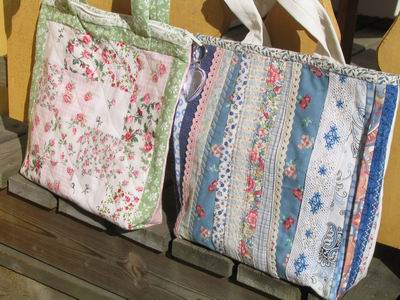 The backsides of our bags.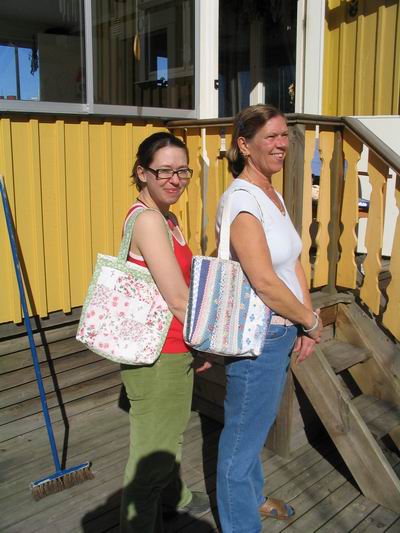 Me in green and mom in blue (mr Photographer not minding where he cast his shadow).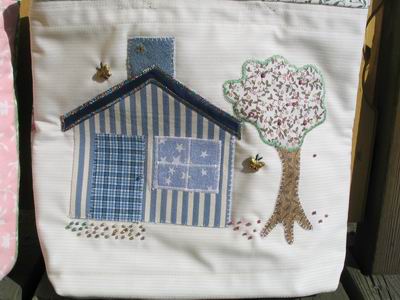 Closeup on moms blue house and her Apple tree where she embroidered some pearls. She is crazy about pearls.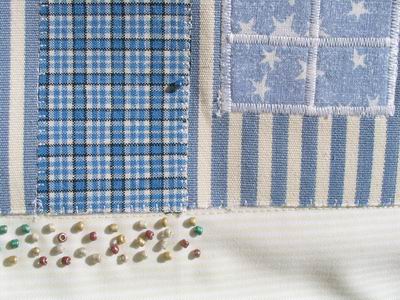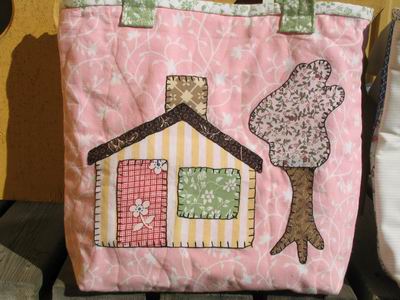 I like my Summer Bag, it is sooo very summerish!
Total craft time: 1,5 day with breaks for knitting, reading and eating.
Cost for me: Zero SEK. I love to visit my mom!