On the 24:th of April last year I wrote my first blog entry in il Bloggo. Now, a year later il Bloggo has it's first birthday.
Happy Birthday to the blog!
Now, one year later a lot of water has passed under the bridge, and a lot of visitors has read my thoughts and praised my makings. Thank you to everyone, I absolutely love reading your comments and e-mails! It is one of the best part of the blog world. Here is a little odyssey of my creative life this past year, or at least of the changes that has made me a more creative me.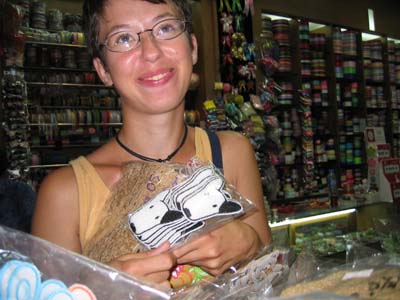 But first a picture of me in the end of 2003. This was taken at a market in Bangkok, and as you can see I'm holding a packet of sew-on-dogs that I found. In the packet is about 20 dogs that I bougth for my friend, who loves A-bomb and everything with bull-terriers on. It cost next to nothing. I was happy that I found this because of her and passed by everything else on this market. Fabric, lace, buttons, more sew-on's (the teddy bears I was holding in and putting back with the rabbits and cats and… more!), ribbons en masse etc. That was me – 1,5 years ago. I didn't see. Was I blind? No, I had no need and saw no potential in these things.
When this picture was taken I had never bought a skein of yarn in my entire life. I did not own any knitting needles and I had no desire to get any lace or buttons at all. As an adult I had never sewed anything, not even my own curtains and I had no fabric stash what so ever. I didn't even have a sewing machine! I thought my mothers quilts was beautiful but I couldn't even imagine my self having the time, lust or patience to make one (not that I have made one yet, but I have the wish to now…).
I had not made a painting since I was an au pair, making Disney copies for the three kids, and not crocheted anything since sysl?jden back in school! That was me 1,5 years ago. Since then my life has become so much better, yes richer and more in balance with everything. This progress is still going on, and is because a lot of reasons that I'm not going into here. But now, today, I'm a person who crochet again, who has one filled (!) art journal, a sewing machine (thank you mom!), a yarn stash, a creative blog, more friends (hi there!) and a lot more plans for projects involving painting, sewing, knitting, drawing, collecting, cutting paper, printing, writing, swapping and collaging!
It's going to be a great year!
Now I only wish I'd known what I know now – when I was at that wonderful market in Bangkok!