Morrisons book Beloved and some yarn I love.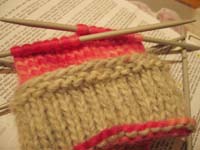 I've been knitting on my very long socks all day while listening to Toni Morrison reading her Beloved on audio cassette. It's so great! Both the story and her voice – and I'm enjoying not having to read for my self for a change. It's like being on holiday.
My much needed mittens in Lovikka grey and Trend Wool pink is on hold (see picture), because my beloved pink yarn is finished! I have to get more, or cry out loud. Will buy more, even though I think it is to expensive for me right now. The yarn is thick and lovely to knit in, but knits up to fast. Maybe I should frog just to be able to knit some more in it? Hehe. No, I'm sticking to my long socks and trying to finish them this week.