My supersoft Lovikka mittens are finished and I love the color. They are fun and fast to knit, and easy too.
I used them for the first time today, after considering froging one of them, since they are different in size… One is maybe 1,4 cm bigger than the other… But that does not show when they are on my hands, so that is where I'll keep them! I'm gloved, and it felt like they were glowing when I walked to town today.
My old Thinsulate mittens have big holes, and will now find a place to rest. For ever. Hurray!
They are the most expensive things I've made compared to their size, but will be used a lot I guess. The yarn is Hjertegarn Trend wool 1 skein + 1/5 of a skein plus 1/5 of grey Lovikka yarn in pure wool.
Only problem is that they are very big (borde jag tova/valka/vad dem? hur?). I almost drop them when I hold my hands straight down!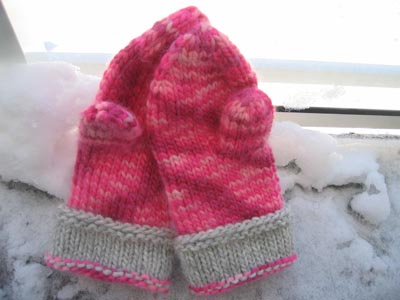 I'm going to call them my Candy floss mittens (sockervaddsvantar), since the soft consistency reminds me of that and the color makes me happy and is so sweet!