Today is the starting date of the Great Book Sale that every reading person in Sweden waits for like Christmas day! I had, like so many other times, no intention to buy anything… I was only going to look…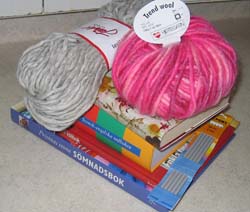 Haha, look at books is no fun. I bought a book (S?mnadsboken) about sewing in different styles, one about decorationg your home and one ugly Swedish-English dictionary. And I'm not saying I won't go back, because I probably will. But right now I have to keep reading in Technologies of gender for school.
Before going home from town I went into the expensive LYS and finally bought the yarn I've been drooling over for months. It's Hjertegarn Trend wool (70 % wool, 30 % acryl) in different shades of pink (color 1)! It is so beutiful and soft! And expensive! If you know a place where I can get more of this yarn and not be robbed, please tell me. Just to make one pair of mittens I had to buy a cheaper yarn (grey Lovikka from J?rbo). Plus I needed to get a pattern for the Lovikka mittens and 5 mm sock needles. 200 SEK for a pair of mittens. Now I'm definitely broke!