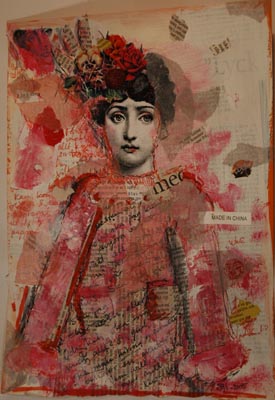 This is one of my favourit collages so far, made before I got the Art journal book. The head is from a free print found at the wonderfull site of Aisling! She's my kind of girl!
I added acrylic paint (actually goache), newspaper, my own handwriting and a one bokm?rke with florals.
Yes! I finaly figured out thatbokm?rke is not "bookmark" in English but "Scraps die cut" or something like that (?). Why, dont ask me.
Bookmark is a mark in a book that you read (or a site you'll want to revisit).
Now I just need to know what filmis is in english!?? Help!