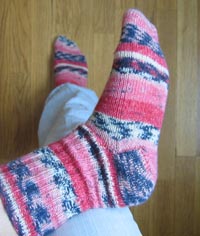 This pair of socks is releated to my gingerbread sock, finished in december last year. The yarn is the same, Opal, and I call them my Raspberry socks (hallonsockar!).
The difference now is I'm more experinced, and the Raspberry socks are a little longer (because it was a lot of yarn left on the skein after I finished the gingerbread socks) and much smoother looking.
I e-mailed Britt and asked for help to make them match eachother and she gave me some tips on how to do that! And as you see – they match!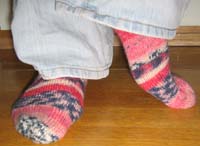 How then? You leave a long thread in the beginning of your first sock. When you start your second sock you unwind the yarn until it matches the yarn tread that you left hanging. When you start knitting you'll see if you've found the right patternspot! I did.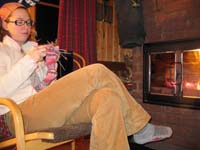 And in my photo diary I found this picture of me knitting on the second sock in january this year.
I started knitting around christmas and finished it in january. Now I've fastened all the threads and started using them They are lovley to wear, to look at and I enjoyed knitting them!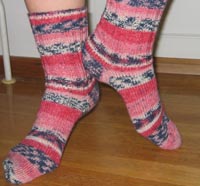 Socks are fun to knitt! These are only my second pair ever!