If I fall in love with a yarn I have to find a pattern that match it and my idea of something nice to knit (that I realy want and need). If I find a pattern I have to find the yarn, and if the pattern is online the yarn is not availible in Sweden, or expensive, or something else that makes everything comlicated. Plus surf to Forex to find out how much the yarn is in SEK! And I surf around for hours trying to find a store where it is:
1) cheap
2) ships to Europe
3) a langugage that I can understand
4) where they have the colors and brand I crave!
Where is all the good Mentors when you need them? I need a Yarn Mentor living next door!
Isn't this Sommerliches Top beutiful? With a pattern in German of course. Maybe you have a copy of Rebecca #17 at home, in english? Please let me know.
Yarn Mentor
Surfin around the net I found the Lana Grossa Pep Jacke a while ago – and fell in love. It just looks so cool, both the yarn and model. I really feel like knitting it, if the yarn is not to expensive. But Lana Grossa? Can't find it any stores nearby anyway, even if the pattern is published both in German and in English! They really have a lot of cool patterns over there! What about this? Or this! *sigh*
And if you're in to experimenting with socks, they have some new cool ideas here!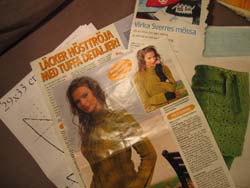 I'm happy to have my mother, even though she isn't next door. She sent me some Swedish patterns the other day, and I want to knit it/crochet it all. I love green! One of the pattern she sent was this green skirt! So chich!
I also want to knit something for the summer soon, maybe the pink top on the cover of Garntjänst's latest brochure? I really like a lot of patterns there, and I think I will make an order of yarn soon!