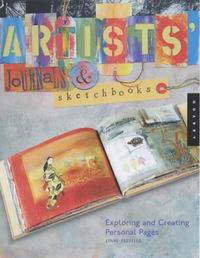 I bought Lynne Perrella's book Artists' Journal and Sketchbooks: Exploring and Creating Personal Pages at Amazon.co.uk in November when browsing for Christmas presents. It arrived about two weeks ago, and since then I've been turning the pages forward and then back again. Browsing, reading, admiring and feeling a need to do some of this myself.
The technique is to have no boundaries I guess. Perrella writes "Just start. Today!" But I feel that I want everything to mean something, to express a moment in time or to write something that you have to be able to read.

I think it is the difficult word journal that stops me. Journaling for me is very clearly writing something for the memory to grasp in years to come. How can it be color? I love the idea though. I love it! (In Swedish you never say "love it" about things that you like, not even when you like them a lot. Love = kärlek and "I love it!" would be Jag älskar det! But this expression is not used very often, maybe because love in Swedish is a stronger word?)
The book is about a special way to record your moods, to find yourself and explore your creativity. Through collages that you splash with paint, words, scribblings, thoughts, newspapers, color and pieces of paper from your daily trash, a magazine or a collection of old postcards.
The pictures in the book are awesome, made by different kinds of artists. The tips and ideas that Perrella is giving is also great. Inspiring! I'm in love with this book, but also scared. What if all I do will be ugly, useless and bad?
But I feel so inspired that I know I will start soon, and I imagine this will be the creative thing of the year for me (like knitting was last year). I've been doing a lot of collages out of old magazines when I was in school, usually on different themes. Not so artsy, but fun to do. I made huge posters for my little brothers on themes like "kids" and "flowers" for his wall.
I still have my book of clippings, and after reading this Perrella book I also have one thousand new ideas. Soon I'll get around to bring out the scissors again. Maybe I'll find a new me?
Anyone tried this?