This year my longing for Christmas is greater than ever. I've never been totally in love with any holiday, and even though Christmas is great I don't ever want to become like my parents: clean the entire house like manics, cook to much (fattening) food, buy presents for all the people I know and then rush through all the fun in one single day!
I'm to much lay backed and slow going for the Christmas stress.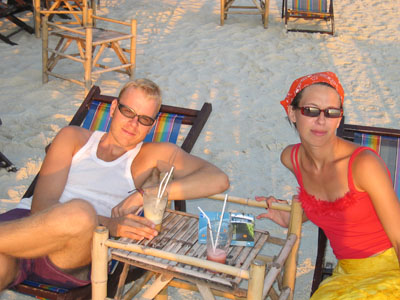 But last Christmas I spent in an island of sun (see picture above), so this year my longing for a real Christmas is great. I hung up the stars in the beginning of November and now I have the entire house decorated with glitter and candles. I'm planing to bake a lot, drink gl?gg and not produce even one little gnome (don't like Christmas fabric or Christmas craft) but once again, enjoy the company of the people I love on Christmas eve. It'll be great fun!
What I love best about Christmas is:
the exaggeratedly long wait
the light in the children's eyes, which glow in mine too
the greatness of giving and receiving
and now, (when first of advent have passed unnoticed) and only +three weeks to go, it's the start of:
Happy December everyone!