New sock yarn, (Regia) and the planing of a knit-a-long for a very long sock next year. Join in!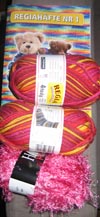 I bought three more skeins of yarn this year, and they will be the last new one in this house for this year.
It is 2 skeins of Regia sockyarn, witch just like Opal Magic (that I knitted my first socks in) is a German made yarn made of 75 % new wool and 25 % polyamid.
Regia is availible in a lot of colors. I found this yarn at my LYS Tygbiten, where I got a booklett full of descriptions to go if I bought the yarn this year. And of course I had to.
I relly like the colors: yellow, orange, christmas red, dark pink and browns. My colors!
And the third skein is a Happy multi (polyester) from Id?na. You'll soon see what will become of these yarns, I hope.
Maybe next year? Oh yes, next year will start with the great hunt for yarn for the Very Tall Socks by Kelly Griffith! Together with Valentina in NY we will start a Knit-a-very-long-sock on january 15:th 2005! Join in!

Grab the button and spread the word! It will be my first knit-a-long (no swedish translation availible), and I'm really looking forward to it, even though I know it will take for ever to make these very long socks!
PS: I've made an annoncement at Knitty.com. Allways check there for knit-a-longers!