Undies? Got the inspiration in the beginning of this year, at get crafty, when i got my sewing machine (the tshirtunderwear project is gone from their site unfortunately). I also got inspired by Karissa at Crackers + Honey who has made great aprons, undies and scarfs! Here is a good how to-guide!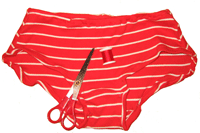 So here are mine:
Christmas-red undies, in polkagris-striped fabric, looking just fresh out of Polarn o Pyret! But they are not, they are home made! Whats next? Who knows, maybe a knitted Trish's Mini-Basque Corselette?
I copied the pieces of a pair that I like to pattern paper and cut out the pieces, then sewed them together. Fun and not difficult at all, just a little tricky! Much sheaper than any underwear bought in a store, and maybe more me? Hmm…
Tekkie time:
Read about Bloglines today at Litet nystan, and wow, it's great. Saves a lot of time and energy since it tells you when your favorite blogs have been updated. It will be my starting page in internet explorer from now on, especially since I got Google toolbar and don't need to have Google as my starting page any more! Grrreat!
They tell me it's been snowing in the country of Sweden, but up here in Ume its only been very cold and no snow yet! They as in Katarina whose blog I just found today. She is a part of the big ring Knitters in Europe, one of few swedes there. Didn't know that there were so many deutche bloggies out there! It's a pitty the only word I remember in German is pferde!