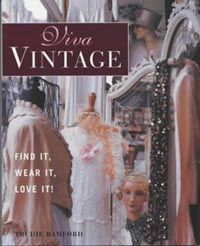 I just love vintage, second hand or what ever you like to call it. Vintage is actually not just second hand-old. According to the book Viva vintage by Trudie Bamford that I found at the library, it's like this:
antique clothing is earlier than 1920s,
vintage covers 1920 to 1980
retro clothing is post 1960
– and anything later than the 1980s is second-hand!
In Swedish everything is just "begagnat" – a boring word. I love the word vintage, even before I knew the meaning of this word.
But what ever you might want to call it, second-hand is great. It's cheap for the buyer, it's a great way to rinse out in the wardrobe for the seller! And if you dislike the consuming world we live in (buy, buy, buy!) but still want to have new (to you) great clothes (or whatever) you should embrace all second-hand-shopping. It's good for the environment – and often the best places are charity shops. And when you buy stuff from charity shops your money help country's in war and people in need!
I sure love flea markets, vintage, second hand – for all these reasons and many more. Bonus: you can ask for concessions – and haggle is fun, you meet a lot of funny people. When you walk around you have the opportunities to look at beautiful old stuff and enjoy the feeling of coherent with the past.
If you want to be inspired into this world of vintage, you should get a copy of Viva vintage and read. It's a great inspiring book, that I had to read after reading the Swedish book Chic and realizing that I want to make changes in how I dress (and that I'm a poor student). Great books!
And great that Tuula is back bloging again, mentioning me among her great links to great sites! Tuula, have you seen the Jennifer Murphy's teddy bears? Bigger than the Peng peng bears, but adorable to. New but old looking.