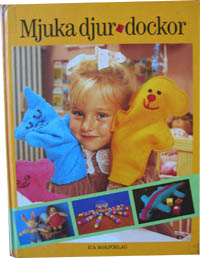 Eager to make a sweet teddy bear, after I (like I said earlier) found the homepage Made by Manne (wich I really like) and his knit-along with Projekt Bamse, I too wanted to make a knitted animal. I didn't dare to make one acording to a norwegien pattern (I'm to much of a beginner in knitting to even try to read a pattern in english – yet!)… But then a couple of weeks ago I found the book Mjuka djur och dockor from Ica-f?rlaget at my local library and took it home. In this book I found a lot of sweet things, amongst the others a monkey girl (maybe for later).
I started with a bluegreen bear of the family Brum (made in brown in the book of course), but now I don't know what I have landed with…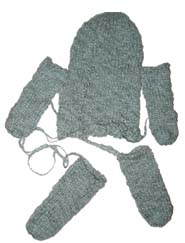 Are these greenblue parts going to end up a bear-like thing? She who comes around will know. I'm not at all sure.
But it was at good practise to knit with double pointed needles (strumpstickor), and I still have left to make a nose and two ears, maby it's all that lacks? And some stuffing for tummie of course!