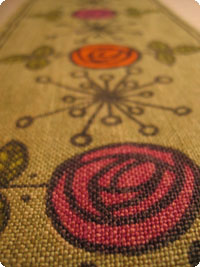 One of my favorite things found in a flea market this Sunday is this adorable green runner with pink and mauve roses on.
I just love it! I was 5 SEK and looks great in the big window just in front of my desk.
Most of the fabric I find I plan to cut up and make new things of this winter, but some are just to beautiful to destroy. I leave them to others, or buy them to make my home more great,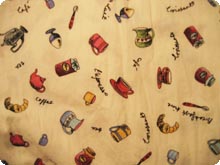 I'm also collecting fabrics of all sorts. I bought this mostly with my mother in mind, but it was at least 4 or 5 meters (20 SEK) at the same flea market that I might keep some for my self. I really like the pattern, it would look good on one of my mothers home made pot-holders!
My mum is coming for a short visit this week (soon!) and this is one of the presents I found for her. I love this one too, a kitchen towel to put in front of a towel hanger (paradhandduk). Design by Ullas: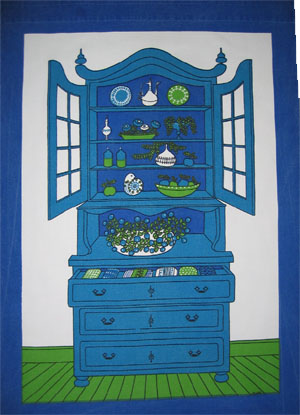 Isn't it nice? I found a lot of her (?) towels at Tradera and I really like them a lot. I even thought of starting a collection! But no, maybe just one if I can find the right one to a reasonable price…
Mum is also getting a couple of home made things, but I'll have to show the pictures of them later. I hope she will like them.


And another bargain I found an won at Tradera. A lot of beautiful ribbons for my quilts: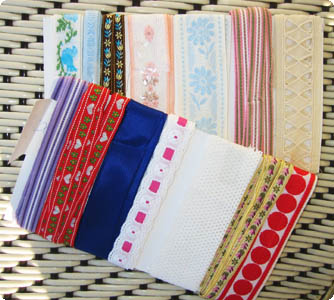 Wow!
Lastly I finished knitting a cap for my boyfriend, it's blue and fits him quite well. It's the same pattern as my pink cap but with a white square in the middle (at his own request). He calls it his boulder cap (bouldermössa), and I think they look sweet together.