I havne't been at home at all this weekend, since I take the class Skapande svenska (creative writing) at the university. It is so great and inspiring. I just want to see all these good stories as books (finished stories at least) – soon – some day.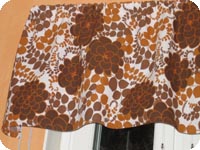 Here is a picture of my kitchen curtain that I made a couple of weeks ago. Easy sewing stuff but still.
I really like brown these days, like this fabric with brown flowers on white (Thank you Ellinor for this great fabric!). I don't want to go back to the 70's though, when a entire room could be hang with dark chocolate brown. That would be to depressing today!
Here is a picture of the knitted scarf #3 I made:


It's made in a thin yarn called Teddy and given to my mother at her request. It got quite wide, but she will wear it double-folded so it's okey. Her favorite color is blue, hence the blue fur.
I also have updated the Kära fotodagbok (Dear Photo Diary) and finally we have chosen our favorites from June to September! Some are really totally great!
I love how the Photo Diary makes me remember past days, appreciate life and become a better photographer!