Happy birthday to my brother Mikael!
Det är inte klokt! Min lillebror blir 12 år idag. Det är faktiskt hela 12 år sedan han ploppade ut ur vår mamma.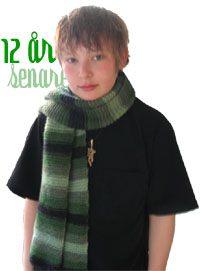 Jag minns det mesta så tydligt, som om det var nyss han låg på mammas bröst alldeles grå och kladdig, så liten och inte speciellt lik den söta lilla bäbis jag väntat på – men vår! Nästan min. Jo, min! Och älskad från första stund.
Jag minns hur han luktade, hur han gnydde – alla de där galna små nysningarna när han kom i för starkt ljus. Och ljust var det, strålande soligt, varmt och en härlig sommarkänsla infann sig när pappa och jag besökte BB med en jättenalle under armen.
Två veckor senare visade jag upp honom för mina klasskamrater på sista examensdagen i grundskolan. I hatt med fullskrivna sidenband (Hanna – visa världen! Hanna – lycka till där ute!) och blå långklänning drog jag vagn och stoltserade mitt bland nysläppta, yra tonåringar.
– Jasså lillmamma redan, sa mina lärare med beundran när de böjde sig ned över vagnen för att ojja sig över honom – min… vinst? nya kärlek? min bror? Min bror!
Det ynkliga lilla grynet knep ihop ögonen i solen, vickade med små fingrar prydda med minimala naglar framför ansiktet och sov sig obekymrat igenom Den blomstertid nu kommer och utdelandet av betyg och lyckönskningar.
Det var i maj när göken gol,
sa mamma att det lyste
av vårgrönt och av sol…
Alison skickade diktkort från Skottland:
Now there is going to be
so much fun and laughter
with someone so tiny
to love and look after.

And that little someone
is so lucky to
having a sister –
as special as you!
Som fortfarande får mig att skriva storasyster bland de saker jag är mest av allt, i hjärtat. Storasyster – och feminist, skribent och världsmedborgare. m.m. Med stor hemlängtan speciellt mycket idag.
Det är konstigt att så små personer kan få så stor betydelse i ens liv.