Swap Info | Sign Up | Benefits | Sharing | Inspiration | FAQ | Newsletter
Frequently Asked Questions
Questions you might have or want to ask before the swap starts, and then when you're waiting for and receiving postcards toward the end of the page.
---
Questions to ponder before you sign up
I don't have paypal. Can I pay you in cash?
When you click the pay-button you will be directed to a paypal page, but you do not have to have paypal to use it. If you don't want to log in to an account, go to the bottom of the page. There is a gray area, with the option that says "pay with debit or credit card" on that page. If you chose that option money from your bank will go through paypal to my account, but you don't have to create a paypal user.
Sorry, I can not except cash or checks at this time. Thanks for asking!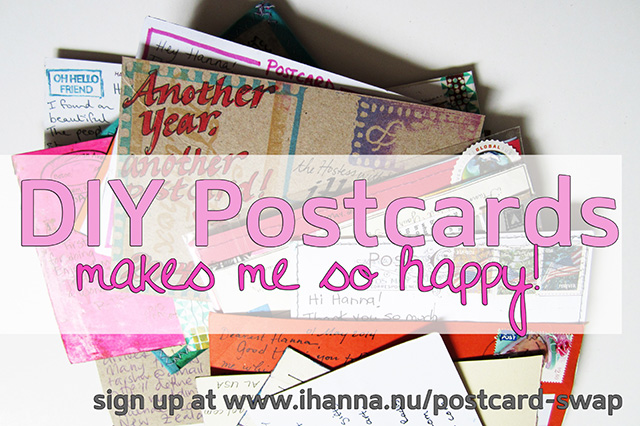 What is included in the fee?
I am charging a small fee (8 dollars) for participation in the postcard swap that I host. The fee helps pay for the time it takes to arrange a big swap like this one, with 100-200 people participating each time. Being part of the swap you'll also be part of a growing community and you are offered several ways to share your postcard images online. You can read more about what's included in my post Why you pay to be in the swap.
Can I sign up my kids /grandchildren too?
This is a postcard swap for adults. I don't think it is fair game to the kid creating, nor the few people that receive kid's art but don't appreciate that kind of thing. But please, let your kid make postcards along with you, and send those out to friends and relatives instead. They can be part of your process, and wait together with you to receive your postcards. Encourage them to make postcards with their friends, and swap in preschool/class. Thanks for understanding!
Let's say, if you're 16 or older (and you have your parents approval to join) you can, but I recommend you make the 10 cards before you sign up so you don't forget/run out of time. Let me know if you need any help along the way.
Will I get a confirmation e-mail when I sign up?
No, you will not get a confirmation e-mail. You will know you're signed up because when you've payed you always get a receipt from paypal, and I will be notified too. Make sure you're also registered and that you've noted all dates (deadline on when to send your postcards out) in your calendar before you leave this site to go create them. In that way you won't be worried that you missed the e-mail with your addresses, because you'll know what date to look for it. :-)
What if I signed up and then can't participate?
There is no refund if you can't participate, but please let me know!
If you have signed up and then realize you can't create all the postcards on time, or you get sick, or something else unexpected happens, please let me know as soon as possible so I can remove you from the list before I send your name out. Otherwise 10 people will be really disappointed about not getting your postcard, and you will get 10 in your inbox that will make you feel bad that you didn't follow through. If you simply let me know before I send out the addresses, I will remove you from the swap and everyone will be grateful for your honesty. Sometimes life happens, we understand.
Also, if you let me know that you can't participate this time around, you can save your fee and postpone your participate to the next postcard swap I arrange (there is two each year: in spring and fall). It is up to you to send me an e-mail reminding me of your spot when the next swap round opens up.
I did sign up, but never heard from you. Where are my 10 addresses?
This is an e-mail/service provider problem I am encountering over and over again. I can assure you that if you paid and added your address into the form, and it is now after the date I state I'll contact you, I have contacted you. I promise! I see it in my own "sent folder".
SO what to do? First, check your SPAM folder. Then check your other e-mail account, if you have one. Maybe that's the one you gave me? If you can not find it, let me know via the contact form on my page but state another e-mail address. If you can't see my first e-mail, which is sent from this domain, then you probably won't get my reply to you are requesting. I'll e-mail the list to your work, to your spouse, to a friend – I really want you to get it in time, and I re-send lists all the time because of this problem. You can also contact me through my Facebook page, if all else fails.
---
Questions to ponder before creating
What size should my postcard be?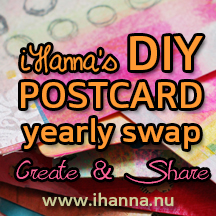 I'm not dictating the size of your postcards. I suggest copying the size of a regular postcard to make a template that you can use when creating yours.
There is a standard size for postcards in some countries – but there are no rules about size in this swap. You are free to create whatever you want!
I collect mine in a special postcard binder, so I appreciate postcards that are not huge. I prefer it when your postcards are regular size, maybe about 10×15 cm (3.9×5.9″) or a tiny bit bigger
What materials can I use?
All mediums are welcome, but know that most of the postcards in previous swaps have been mixed media in some way. You can draw, doodle, paint, decoupage, collage, sew, stamp or mix it up as you please. I have received paper cut postcards, and postcards with zentangles, paper patchwork, machine embroidered (on paper), illustrations, wool embroidery postcards, and even a postcard painted on canvas. Imagination is the only limit, and we've got plenty of ideas to share with you! I have even seen a knitted postcards in this swap!
You will get a gold star if you can incorporate recycled material in some way, because that is good for the environment.
How "original" should my postcard be?
All your 10 postcards should be original artwork! Original means that you do not send out photocopies, but to duplicate your own style or to repeat a motif that you love, and make similar postcards is totally okay. It's also fine to make all of them different. You are the artist. Make it fun for you!
Backside information
A Greeting. Your contact information. Postal stamps. Country!
Do I need to write a message on the back?
Yes. You should write a message on the back! Don't send it blank. I know you don't know this person you're addressing, but a blank card feels very impersonal to get. Just say hi and write something about yourself, or anything you like.
If you are writing something on the front of your postcard, with hand lettering or collage, avoid negative sayings or words. If it's something that would make you happy and that you would feel empowered by – it will be awesome.
What information do I need to attach?
Please share your email address on the back, as a way for the receiver to contact you. Many swappers feel that they want to let you know your postcard arrived, or simply to send a "thank you" when receiving a card – others will not bother with that. It's all up to the individual, but it would be awesome if you gave them the option. The best way is to print a small label with your name, e-mail and any other information (postal address if you want to, or blog address if you have one). In that way it will be easy to read and you don't need to hand write it 10 times! :-)
Lastly, don't forget to add the correct amount of postal stamps – and put in a mail box!
Should I put my postcards in an envelope?
You can send the postcards in an envelope for protection if you want to, but you don't have to. Personally I prefer to get a postcard send the postcard way – without the envelope! In that way the postman will get to see it too. And also, the whole idea of mail art is to send it through the mail system openly and spread the power of art.
If yours is very delicate or has chunky bits that might fall of, maybe it's not a good fit to use that piece as mail art? Design your postcard so that you can send it like a postcard! If you're unsure weather it will hold going through the mail system, send a trial postcard to yourself first, to see how it holds up.
I agree with artist Lenore Tawney who believed that the cancelling the post office did was part of the design. The book about her work is called Postcard Collages.
---
Questions you might ask while waiting for your postcards
Once you have sent yours the waiting begins…
There is no e-mail address on the back! Can you help me?
No, I can not. If a person didn't add their e-mail to the back of their card I will assume they choose not to do that. Maybe they're not comfortable sharing it. So I will not give out their e-mail to you. Send them a silent thank you in your head, that will be enough.
I only got two postcards – what should I do?
Wait a bit longer please. Remember that things can happen. People get sick, or forget to check their e-mail. International mail can take several weeks to get to you. There is no guarantee that you will receive 10 postcards, I can not travel around the world and make people follow through on a swap they signed up on! But if you get less than maybe eight postcards, let me know via e-mail. Tell me from who you have gotten postcards, and I will contact the non-senders and ask what happened on their end. Thank you for your understanding.
Can I share the postcards I receive online?
Yes you can share the postcards you get. In fact, I think it's great if you do. The swap is about inspiring each other and if you share what you get you'll inspire even more people. Each creator has the copyright, but as long you're purpose is not commercial it is okay to share them on instagram (hashtagged #diypostcardswap), in the link up post on my blog, on your own blog or in the Flickr Group!
Please do not share someone else's e-mail or their postal address, in writing or as a photo of the back of the postcard, though. Some people will not feel comfortable having these things floating around online.
All links/resources can be found on the main swap information page.
Can I share the postcards I receive on Facebook?
I've been asked to create a postcard group on Facebook but declined. I do not need another thing to keep track of in my life. Share your postcards in the mixed media and mail art groups you're already in, or on your own Facebook wall. If your profile is open I will be notified and see your cards if you write something like: "A postcard made for the DIY Postcard Swap of Studio iHanna" where Facebook will link Studio iHanna to my FB-page. This does currently only work if you have liked my FB-page and are on the Facebook site from a regular computer, not an phone or ipad app!
Do you have a question that is not answered on this page, feel free to contact me!