It's time a September's post with a spotted photo theme! Something that occur in all our photographs are colors (if you're not shooting black-and-white). We all adore colors, am I right? But maybe you have a favorite color that you often spot in your photos?
Go look through some of your recent photos and see if you can spot one color that sticks out among your photos and group them together. The color can be an accent in the whole, or maybe you'll pick the most monochromatic photos you can find. I did a bit of both.
---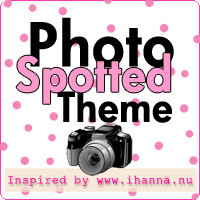 Wanna join me? New to my prompt "Spotted Photo Theme"? Then read my Introduction to the Spotted Photo Theme Idea, and feel free to post the link to your Spotted Photo Theme of the month below in the comments. Use my theme, or tweak it to fit what you have photographed. Link back to me by text or using the spotted theme-button, thank you for helping me spread the word.
---
My favorite color is pink…
Surprise! I love pink as many of you already know, so I spot this color in many of the photos I've taken through the years. This summer I've even had a pink mission, so I tried not to share more pink flowers in this post. Also I have shared a lot of pink on this blog, from the magnolia tree, to geraniums, dying, knitted sweaters, a kanzashi, notebooks, fabric beads, dymo labels and lots of other pink crafts, items and things. So today I'm not sharing my creations and home, but pink stuff spotted (mostly) outside, when I've been out and about. I hope you approve…