Råskog – the turquoise Kitchen Cart, you know it? Yes, I'm guessing you already know the piece of furniture I'm addressing today? It's IKEA's Kitchen Cart Råskog. You know the metal cart on wheels, made out of steel with a epoxy powder coating in the most delicious sea foam kind of color? First only available in turquoise, but now also in gray and most recently beige.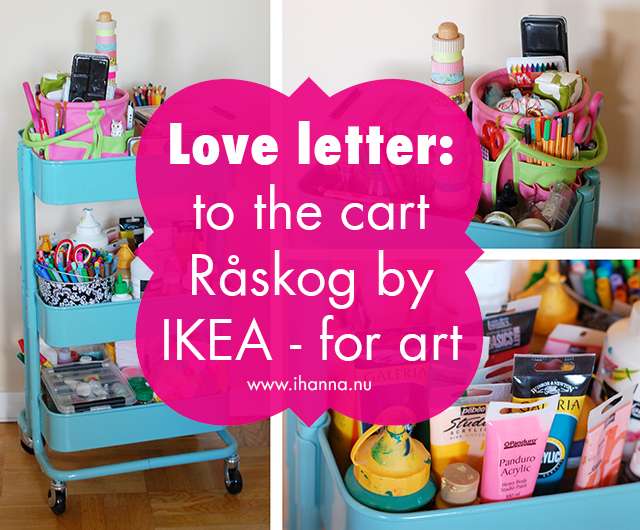 I got mine a while back, but I still adore it and thought I'd write a love letter to it. Because why not spend your love on inanimate objects, when your heart is so full of love and there is not enough humans around? I don't use my cart in the kitchen of course, I have it in the studio space, and each day I love it a little more. A lot of artists find this cart convenient to use, and an awesome storage unit in the studio, just like me. It's an artist love story for sure.
Here is my ode to this cart, or my Love Letter to the Artist's Best Friend Råskog.
Dear Råskog Cart
You know I love IKEA a lot, and I've done many IKEA hacks through the years, but so far you are my personal IKEA favorite, no hacking needed. When I first spotted you I thought you were a bit too pricey being an IKEA piece, but I still had to have you. I didn't hesitate, I took you with me home and it was love at first sight.