Last night Maria and I went to see Laleh and Kalle. Oooo, I love them! Poetry and music. Maria's pictures turned out great, and I'm filled with lots of happiness and beauty.
Do you need a bloggin subject today? Or new friends?
Why not surf over to Tine's Studio Friday project and check out the new topic of the week and participate? This Friday the topic makes me think about weddings, because we are asked to post SOMETHING OLD, SOMETHING NEW, SOMETHING BORROWED, SOMETHING BLUE… One thing that is all of this or maybe four things like I do now: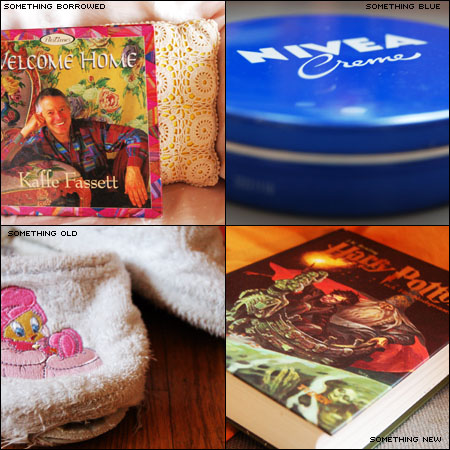 Something Old is not that old, but being a pair of slippers they have survived a long time. I got them in NY six years ago, and they look old now, but are comfy still.
Something New is the latest Harry Potter book with Swedish cover by the artist Tapia. I haven't read it yet, but soon I will. Right now I'm just enjoying how beautiful and thick it is. Mmmm….
Something blue is a yar of Nivea creme for my lips. I've had a horrible cold all week, and need to get some fluid balance to my skin right now.
Something borrowed was hard to find in the studio, and acctually I've allready posted the books I have borrowed from the library. But since I loved Kaffe's book about homes I thoutht I give a shout about it here (and I have a request for a glimps of it).
So…


Ah, roses! And this arm chair is embroidered! Can you believe it? I want one, and I'm willing to make it on my own too.

Kaffe Fassett's love for collecting is enormous (porcelain, books, stuff everywhere), so I don't think he does his own dusting… But these pictures would be beautiful in the Art studio pool which I love to browse and am now helping Tiff taking care of.

I took a photo of this page just to remember that I want to paint chairs like this one day. For that home you know, in the future. I looove these.

Is this guy a rose collector or what? He beats me, but I guess he's been at it a long time!
Personally I have all of the Kaffe fabrics on my wish list… Specially these: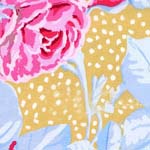 Kaffe Fassett Roman Glass Pink, a classic I've seen lots of places all over the web but of course never in a shop in Sweden! Kimono crimson and lots and lots of Forget-me-not Rose Circus! Mmmm!
august roses pink and pastel. Freckles rust, Planet moss and Planet rose! Wild rose pastel and all of the paper weight fabrics!
If you want to enjoy more colourful pictures buy his books or visit his studio!
And if you are curious about Laleh, who I mentioned in the top of this post you can listen to samples of her songs here. I have her record, and can't wait for the next one.