I painted my old shelf pink but I still dream of a real art studio or at least a little craft room…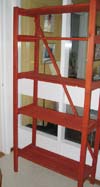 A while back I bought a store shelf at a recycling store (Återvinningen). It was already varnished in rust brown, cute nice but not my style.
So after a lot of hesitation I went to the the Paint & wallpaper store and got pink paint! The pink is very bright (but not white!), a shabby chic colour that I adore!
I painted it on my balcony, in the sun this weekend. And this is how it turned out: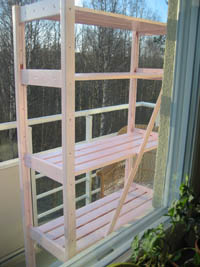 Tada!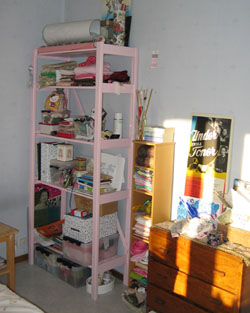 After it dried I took it back into the bedroom and filled it up with my craftsy stuff!
Yarn in the plastic boxes on the floor and then paint, paper, small boxes with lace and buttons and some small pieces of fabric (the rest still jammed packed in my closet).
I would love a real big studio or just a small little craft room, but we just have two rooms. It's stupid that I have all this stuff in the bedroom, since I do my collages in the living room sofa or in the kitchen and have to carry everything around all the time. But for now it's good like this, and now the shelf is pink and shabby! Love it!
But still… I love to look at other peoples studios online, when ever I see a studio tour posted I visit and drool.
I would like a colorful studio á lá Teesha Moore, a whole room full of stuff and stamps… I would love to live in a place of art and crafts! In the meantime I'm happy with a pink shelf of course.
But I will keep on dreaming – of space.