Here are the promised pictures of one of the christmas gifts I knitted in december. Inspired by Anna at Trassel I knitted these Jolly Roger hand warmers, so popular here in Sweden right now. Easy and fast to knit, and fun. And my 12 years old brother really liked them and didn?t take them of after opening this present on Christmas eve. Here he is showing of in a new sweater, new mp3-player and home knitted hand warmers made by yours truly.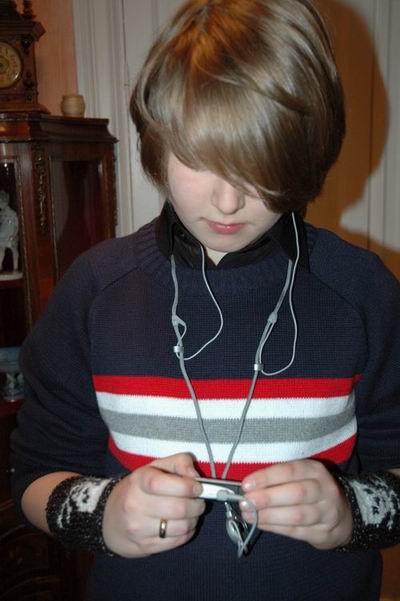 More pictures will come later, because other than the scarf in grey that I knitted for my fater I made a winter cap for my mother in blue, that goes perfect with the scarf I gave her earlier in the autumn. But right now we are in our winter cabin, surounded with beautiful white snow and the pictures are at home.
But these are from Christmas Eve, isn?t my bro a super model?