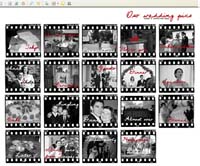 I've done the surounding design on Inger and Christians wedding site, Each day is special, and now Inger has finally finished writing the text for all the thousands of pictures, so go check it out!
Don't miss their beutiful Studio pics from Taipei where I specially like the christmas theme and Christians totaly sweet chicken style!
And this one, makes me miss Inger a lot!